Books and catalogues
Denmark, Internationaal Cultureel Centrum, Antwerpen, 1978
Chelifer cancroides, Galerie Anne Van Horenbeeck, Brussel, 1979
Denmark. Een dood archief in de bibliotheek, Van Abbemuseum, Eindhoven, 1979
Denmark, Provinciaal Museum, Hasselt, 1980
Denmark, De Fabriek, Eindhoven, 1984
Archives mortes de Denmark ou La bibliothèque de Babel, Bibliotheca Wittockiana, Bruxelles, 1986
Denmark. Archives recyclées, Imschoot Uitgevers, Gent, 1989
Denmark, Springer & Winckler Galerie, Frankfurt am Main, 1992
Denmark, De Cellen, Stedelijk Museum, Tienen, 1993
Denmark. A quick look at art news, de Warande, Turnhout, 1994
Denmark. Multum, non multa, Neues Museum Weserburg, Bremen, 1994
Denmark. A Grip on News 1972-1995, MUHKA, Museum van Hedendaagse Kunst Antwerpen, 1995
Denmark. A Grip on News 1972-1995, La Ferme du Buisson, Centre d'Art Contemporain, Marne-la-Vallée, 1996
Denmark. Eine Werkübersicht 1972-1995, Städtische Galerie Villa Zanders, Bergisch Gladbach, 1997
Denmark. Different kinds of reading, Kunstverein Ludwigshafen am Rhein e.V., Kunsthaus Dresden, Städtische Galerie für Gegenwartskunst, 1997
Denmark, Chapelle Jeanne d'Arc, Thouars, 1998-1999
Denmark. Archives mortes, Toohcsmi, uitgevers, Gent, 2005
Genadeloze boekenliefde, Bibliotheek Harelbeke en Bibliotheek Mu.ZEE van Oostende, Stadsbestuur Harelbeke, 2010
Denmark. counterArchives 1972-2012, Guy & Linda Pieters Editions, Pandora Publishers n.v., Wijnegem, 2012.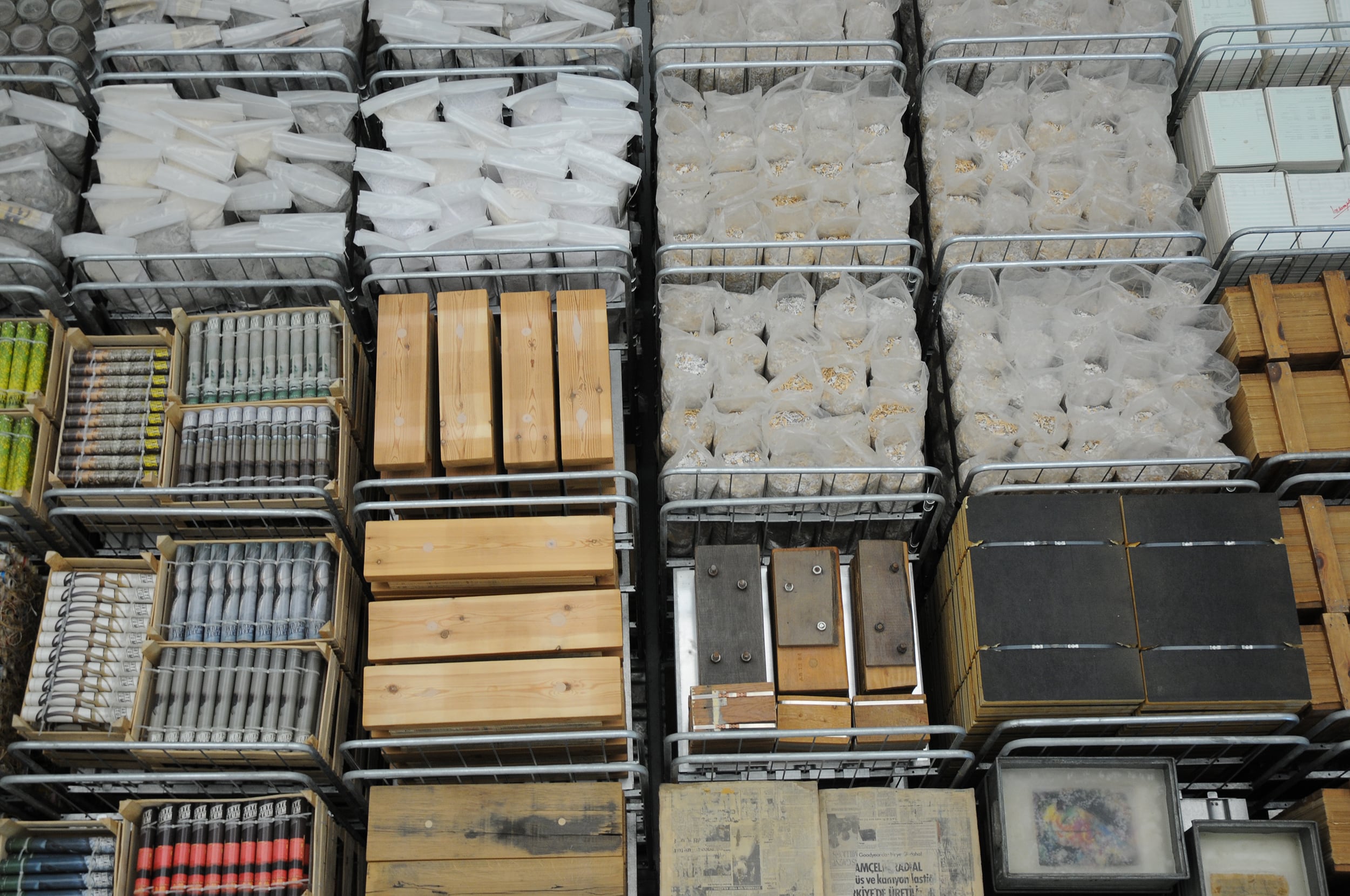 Bibliography from 1978 until now
Denmark, Internationaal Cultureel Centrum, Antwerpen, 1978, 18 p.
E. Devolder, Denmark, in : Jalons des Arts, n° 51, 1979, pp. 4-5
J.P. 2 Art Actuel en Belgique et en Grande-Bretagne. Aktuele Kunst in België en Groot-Brittannië, Paleis voor Schone Kunsten, Brussel, 1979, pp. 137-139
T,P/Travaux, Pratiques, Editions Charles le Bouil, 1979, pp. 38-41
Kunst met papier als arbeid. Arbeid met papier als kunst, Internationaal Cultureel Centrum, Antwerpen, 1979, pp. 6-7
Guy Vaes, Du bon usage des mots, in : Spécial, 25.10.1979, p. 53
Denmark. Een dood archief in de bibliotheek, Van Abbemuseum, Eindhoven, 1979, 12 p.
Nuova Immagine, Palazzo della Triennale, Milano, 1980, pp. 50, 106-107
1980, Internationaal Cultureel Centrum, Antwerpen, 1980, pp. 28-31
Buchobjekte, Universitätsbibliothek, Freiburg i.Br., 1980, pp. 44-45
XI e Biennale de Paris, Musée d'Art Moderne de la Ville de Paris, 1980, p. 106
W. Van Mulders, Denmark of de sporen van de vernietiging, in : Denmark, Provinciaal Museum, Hasselt, 1980, pp. 1-4
Biennale de la Critique. Biënnale van de Kritiek, Palais des Beaux-Arts, Charleroi, Internationaal Cultureel Centrum, Antwerpen, 1981, pp. 28-29
W. Van Mulders, Kunstbeeld in Vlaanderen vandaag, Lannoo, Tielt, 1982, pp. 38, 80-81
E. Dieleman, Een dode bibliotheek, in : Denmark, De Fabriek, Eindhoven, 1984, p.4
W. Van Mulders, Denmark of de sporen van de vernietiging, in : Kunst Nu, nr.4, Vereniging voor het Museum van Hedendaagse Kunst, Gent, 1984, p. 4
W. Van Mulders, Denmark's Impenetrable Archives, in : Artefactum, nr. 6, nov. 1984, pp. 63-65, 107
Aloys van den Berk, De Bibliotheek van het Stedelijk Van Abbemuseum, in : Kijk Uit, Eindhoven, februari 1985
L. Bekkers, Denmark en het gedrukte woord, in : Kunstbeeld, mei 1985, pp. 35-37
E. Schoffeniels, Les archives mortes ou la leçon d'humilité, in : Archives Mortes, Musée d'Art Moderne, Liège, 1985, pp. 5-6
Livres d'artistes, B.P.I., Centre Georges Pompidou, Paris, 1985,pp. 144-147
Wim Van Mulders, Les archives impénétrables de Denmark, in : Archives mortes de Denmark ou La bibliothèque de Babel, Bibliotheca Wittockiana, Bruxelles, 1986,pp. 6-7
E. Schoffeniels, A propos d'une confrontation Borges-Denmark, in : Archives mortes de Denmark ou La bibliothèque de Babel, Bibliotheca Wittockiana, Bruxelles, 1986, pp. 21-23
P. Hagenaars, Denmark. Interview, 3 januari 1986, in : Verover het Beeld, Jan Cunencentrum, Oss, 1986, pp. 15-22
Danièle Gillemon, Au royaume de Denmark le livre est une cible, in : Le Soir, 19.3.1986
P. Hagenaars, Denmark, in : Word & Image, Museum Hedendaagse Kunst Utrecht en Stadtmuseum Ratingen, 1987, pp. 52-57
Jan Kenis, Denmark, in : Art-Paper, Dominikanerkerk, Maastricht, 1987, pp. 46-52
In delen, Vriendenkring van de Academie voor Schone Kunsten Aalst, 1987,pp. 41-43
Inside-Outside, MUHKA, Museum van Hedendaagse Kunst Antwerpen, 1987,pp. 58-59
Wim Van Mulders, In drie dimensies, in : Artefactum, nr. 20, 1987, pp. 12-14
Die Welt im Griff, in : Tijdschrift van de Galerij van de Akademie, jaargang 7, nr. 1, Waasmunster, 1988
L. Bekkers, Denmark en het gedrukte woord, in : Poëzie en Beeld. Het verbeelde Woord, Europese Reeks Leuvense Cahiers, 1988, pp. 130-135
M.M. Mokveld, Kritiek op verspilling. Papieren protest van Denmark, in : Delftsche Courant, 14.9.1989
Geert Van der Speeten, Denmark en zijn gevecht met de papierberg, in : Gazet van Antwerpen, 24.11.1989
M. Daloze, Paperasses, in: Denmark. Archives recyclées, Imschoot, Uitgevers, Gent, 1989, pp. 9-20
Marcel Daloze, Denmark. L'ar(t)chiviste, in : Artefactum, nr. 32, 1990, pp. 2-4
Veerle Van Hilteren, Denmark is verduldig, in : Uit, maart 1990, p. 61
Johan Pas, Denmark. All is told, in : Don't touch, Centrale Universiteitsbibliotheek K.U. Leuven, 1990, pp. 2-3
Jaak Fontier, De Beeldende Kunst tijdens de jaren tachtig, in : De Vlaamse Gids, 74 ste jaargang, mei-juni 1990, nr.3, p.15
Jaak Fontier, Denmark, in: De Vlaamse Gids, 75ste jaargang, mei-juni 1991, nr.3, pp. 30-35
Johan Pas, Denmark, in : Paradoxe des Alltags, Städtische Galerie im Lenbachhaus, München, 1991, pp. 87-97
W.Warning, Spiegelverkehrte Wirklichkeit, in: Bayerische Staatszeitung, 8.3.1991
Denmark, artiste-archiviste: le ramassage, c'est le médium, in: Le Républicain Lorrain, 5.4.1991, p.5
Annie Toussaint, Le papier, l'écriture et leurs interprétations, in : Luxemburger Wort, 2.5.1991
Wilhelm Warning, Spiegelverkehrte Wirklichkeit, in : Bayerische Staatszeitung, 8.3.1991
Denmark à la Galerie d'Exposition de l'Arsenal, in : Moniteur des Soumissions, n° 29, 9.4.1991, p.10
Denmark, artiste-archiviste : le ramassage, c'est le médium !, in : Le Républicain Lorrain, 5.4.1991, p. 5
Denmark, Springer & Winckler Galerie, Frankfurt am Main, 1992, 28 p.
Françoise Bataillon, les " Archives mortes " de Denmark, in : Beaux Arts, n° 97, 1992, p. 94
Ami Barak, Denmark, in : Art Press, n° 167, mars 1992, p.96
Konstanze Crüwell, Botschaften in der Flasche, in : Frankfurter Allgemeine, 25.4.1992, p. 50
Luuk Rademakers, " Krantenkunstenaar " Denmark vertelt zichzelf, in : Het Belang van Limburg, 29.4.1992, p. 5
J. Pas, Bevroren Boeken, in : Het Boek in Vlaanderen, 1993-1994, pp.8-9
J. Pas, Denmark, in : Denkbild und Wirklichkeit, BASF Aktiengesellschaft, Ludwigshafen, 1993, pp. 21-23
Denmark – a quick look at art news, de Warande, Turnhout, 1994, 16 p.
Marc Ruyters, Kunst-vissen, in : Weekend Knack, nr. 21, 1994, p. 120
Christine Vuegen, Gebottelde kranten en ingevroren boeken, in : Kunstbeeld, mei 1994, pp. 18 – 19
Guy Schraenen, Information/Desinformation, in : Denmark. Multum, non multa, Neues Museum Weserburg, Bremen, 1994, pp. 2 – 3
Detlef Wolff, Ein Medium zeigt sich im zerstörten Zustand, in : Bremer Tageszeitungen, 15.6.1994
Gundel-Maria Busse, Merkwürdig ästhetische " tote Buchstaben ", in : Main-Echo-Bayern, 14.12.1994
Florent Bex, Présentation et représentation du réel, in : Denmark. A Grip on News 1972-1995, MUHKA, Museum Hedendaagse Kunst Antwerpen, 1995, p. 10
Hubertus Gassner, Wohin mit den Bedeutungen, in : Denmark. A Grip on News 1972-1995, MUHKA, Museum Hedendaagse Kunst Antwerpen, 1995, p. 12
Peter Bosmans, Denmark. A Grip on News 1972-1995, in : Jongerengids, MUHKA, Museum Hedendaagse Kunst Antwerpen, 1995, 9 p.
Johan Staes, Bezeten door de media, in : Gazet van Antwerpen, 12.3.95, p. V3
Roger-Pierre Turine, Les journaux de Denmark, in : Le Vif. L'Express, 21.4.95, p. 92
Peter Bosmans, Als een kunstenaar liegt is hij verloren, in : Blaazuit, maart 1995, p. 5
Nathalie Coucke, Denmark, les mots du silence, in : Privilège, mars 1995, p. 11
Michele Witthaus, Artist sees printed medium in unusual forms, in : Business Day, 30.3.95
Edith Doove, Papier is verduldig, in : Artsen Krant , 31.3.95
Philippe Farcy, Les supports de l'information démantelés, in : Libre Belgique, 7.4.95, p. 15
Hazel Friedman, Rising above the babble, in : The Star Tonight, 15.5.95
Johan Pas, Denmark. A Grip on News 1972-1995, in : Revolver, jaargang 22/2, pp. 24-26
Marcel Daloze, Denmark. L'ar(t)chiviste, in : Artefactum, nr. 32, 1990, pp. 2-4
Veerle Van Hilteren, Denmark is verduldig, in : Uit, maart 1990, p. 61
Johan Pas, Denmark. All is told, in : Don't touch, Centrale Universiteitsbibliotheek K.U. Leuven, 1990, pp. 2-3
Jaak Fontier, De Beeldende Kunst tijdens de jaren tachtig, in : De Vlaamse Gids, 74 ste jaargang, mei-juni 1990, nr.3, p.15
Jaak Fontier, Denmark, in: De Vlaamse Gids, 75ste jaargang, mei-juni 1991, nr.3, pp. 30-35
Johan Pas, Denmark, in : Paradoxe des Alltags, Städtische Galerie im Lenbachhaus, München, 1991, pp. 87-97
W.Warning, Spiegelverkehrte Wirklichkeit, in: Bayerische Staatszeitung, 8.3.1991
Denmark, artiste-archiviste: le ramassage, c'est le médium, in: Le Républicain Lorrain, 5.4.1991, p.5
Annie Toussaint, Le papier, l'écriture et leurs interprétations, in : Luxemburger Wort, 2.5.1991
Wilhelm Warning, Spiegelverkehrte Wirklichkeit, in : Bayerische Staatszeitung, 8.3.1991
Denmark à la Galerie d'Exposition de l'Arsenal, in : Moniteur des Soumissions, n° 29, 9.4.1991, p.10
Denmark, artiste-archiviste : le ramassage, c'est le médium !, in : Le Républicain Lorrain, 5.4.1991, p. 5
Denmark, Springer & Winckler Galerie, Frankfurt am Main, 1992, 28 p.
Françoise Bataillon, les " Archives mortes " de Denmark, in : Beaux Arts, n° 97, 1992, p. 94
Ami Barak, Denmark, in : Art Press, n° 167, mars 1992, p.96
Konstanze Crüwell, Botschaften in der Flasche, in : Frankfurter Allgemeine, 25.4.1992, p. 50
Luuk Rademakers, " Krantenkunstenaar " Denmark vertelt zichzelf, in : Het Belang van Limburg, 29.4.1992, p. 5
J. Pas, Bevroren Boeken, in : Het Boek in Vlaanderen, 1993-1994, pp.8-9
J. Pas, Denmark, in : Denkbild und Wirklichkeit, BASF Aktiengesellschaft, Ludwigshafen, 1993, pp. 21-23
Denmark – a quick look at art news, de Warande, Turnhout, 1994, 16 p.
Marc Ruyters, Kunst-vissen, in : Weekend Knack, nr. 21, 1994, p. 120
Christine Vuegen, Gebottelde kranten en ingevroren boeken, in : Kunstbeeld, mei 1994, pp. 18 – 19
Guy Schraenen, Information/Desinformation, in : Denmark. Multum, non multa, Neues Museum Weserburg, Bremen, 1994, pp. 2 – 3
Detlef Wolff, Ein Medium zeigt sich im zerstörten Zustand, in : Bremer Tageszeitungen, 15.6.1994
Gundel-Maria Busse, Merkwürdig ästhetische " tote Buchstaben ", in : Main-Echo-Bayern, 14.12.1994
Florent Bex, Présentation et représentation du réel, in : Denmark. A Grip on News 1972-1995, MUHKA, Museum Hedendaagse Kunst Antwerpen, 1995, p. 10
Hubertus Gassner, Wohin mit den Bedeutungen, in : Denmark. A Grip on News 1972-1995, MUHKA, Museum Hedendaagse Kunst Antwerpen, 1995, p. 12
Peter Bosmans, Denmark. A Grip on News 1972-1995, in : Jongerengids, MUHKA, Museum Hedendaagse Kunst Antwerpen, 1995, 9 p.
Johan Staes, Bezeten door de media, in : Gazet van Antwerpen, 12.3.95, p. V3
Roger-Pierre Turine, Les journaux de Denmark, in : Le Vif. L'Express, 21.4.95, p. 92
Peter Bosmans, Als een kunstenaar liegt is hij verloren, in : Blaazuit, maart 1995, p. 5
Nathalie Coucke, Denmark, les mots du silence, in : Privilège, mars 1995, p. 11
Michele Witthaus, Artist sees printed medium in unusual forms, in : Business Day, 30.3.95
Edith Doove, Papier is verduldig, in : Artsen Krant , 31.3.95
Philippe Farcy, Les supports de l'information démantelés, in : Libre Belgique, 7.4.95, p. 15
Hazel Friedman, Rising above the babble, in : The Star Tonight, 15.5.95
Johan Pas, Denmark. A Grip on News 1972-1995, in : Revolver, jaargang 22/2, pp. 24-26
Chantal Cusin-Berche, Avant-propos, in : Denmark. A Grip on News 1972-1995, La Ferme du Buisson, Centre d'Art Contemporain, Marne-la-Vallée, 1996, p.7
Ami Barak, Denmark et la bibliothèque de Babel, in : Denmark. A Grip on News 1972-1995, La Ferme du Buisson, Centre d'Art Contemporain, Marne-la-Vallée, 1996, p.9
Jean-Pierre Delarge, De Gutemberg à Denmark, in : Profils Médico-sociaux , 22.2.96
Nikolaus Jungwirth, Foltermethoden für Bücher. Neue Arbeiten von Denmark in der Galerie Springer & Winckler, in : Frankfurter Rundschau, 25.9.1996
Beate Steigner Kukatzki, Kunst als Antwort auf Reizüberflutung, in : Speyer Tagespost, 12.10.1996, p. 11
Wolfgang Vomm, Anstelle eines Vorworts : das Leben aus dritter Hand, in : Denmark. Eine Werkübersicht 1972-1997, Städtische Galerie Villa Zanders, Bergisch Gladbach, 1997, p. 7
Karin M. Erdtmann, Kühlschrank und Aquarium machen Altpapier zur Kunst, in : Kölner Stadt-Anzeiger, Nr. 61, 13.3.1997
Gisbert Franken, Denmark sargt Datenfluten in dauerhaften Formen ein, in : Rheinisch-Bergischer Kreis, Nr. 61, 13.3.1997, p. 21
Heike Marx, Von toten Buchstaben, in : Mannheimer Morgen, 30.4.1997
Barbara Auer, Multum, non Multa – Vieles, aber nicht Vielerlei. Über die Kunst des Lesens, in : Denmark. Different kinds of reading, Kunstverein Ludwigshafen am Rhein e.V., Kunsthaus Dresden, Städtische Galerie für Gegenwartskunst, 1997, pp. 5 – 8
Harald Kunde, Archive der Läuterung, in : Denmark. Different kinds of reading, Kunstverein Ludwigshafen am Rhein e.V., Kunsthaus Dresden, Städtische Galerie für Gegenwartskunst, 1997, pp. 9 – 10
Hubertus Gassner, Wohin mit den Bedeutungen ?, in : Denmark. Different kinds of reading, Kunstverein Ludwigshafen am Rhein e.V., Kunsthaus Dresden, Städtische Galerie für Gegenwartskunst, 1997, p. 11
Christel Heybrock, Nachrichten in Flaschen, Kisten und Aquarien, in : Mannheimer Morgen, 1.5.1997
Milan Chlumsky, Informationsstaub, in : Rhein-Neckar-Zeitung, 11.6.1997
Leonhard Emmerling, The word for that : Sabotage, in : Magazin Meier, juni 1997
Ingrid Koch, Kritik, Ironie- und die Goldfische schweigen, in : Freie Presse Chemnitz, 14.7.1997
Lisa Werner, Tagesstaub und Magazine im Aquarium, in : Dresdner Neueste Nachrichten, 17.7.1997
Elisabeth Claus, Denmarks Lesarten, in : papier = kunst 3, Forum Aschaffenburg 19, Neuer Kunstverein Aschaffenburg e.V., 1997, pp.17 – 24
José Marin-Medina, La Babel de Denmark, in : ABC de la artes, 6.3.1998, p. 37
Fernando Huici, Denmark, en las Entrañas de Papel, in : El Pais, 7.3.1998
Rosa Olivares, Denmark, in : Lapiz, marzo 1998
Florent Bex, La transformation utopique du réel, in : Denmark, Chapelle Jeanne d'Arc, Thouars, 1998-1999, pp. 2 – 6
Jean-Paul Mandegou, Les signes et les pistes de Denmark à la chapelle Jeanne-d'Arc, in : Le Courrier de l'Ouest, 21.11.1998, page Thouars
Béatrix Ruf, Art at Ringier 1995-1998, Ringier AG, 1999, pp. 40-43
Rainer Wanzelius, Aus Bücher-Abfall wird Kunst. Zeitung und Papier in neuer Form, in : Westfalische Rundschau, 22.10.1999
Konrad Schmidt, Denmark : Information entleert und mumifiziert, in : Ruhr Nachrichten, 22.10.1999
Fernando Castro Flórez, Denmark : el destino de la escritura, in : ABC Cultural, 2.3.2000
Javier Maderuelo, La Eterna Metamorfosis, in : El Pais, 25.3.2000
José Marin-Medina, Denmark o el silencio de lo escrito, in : El Cultural, 19.3.2000, p.35
Florent Bex, Kunst in België na 1975, Mercatorfonds, Antwerpen, 2001, p.43
Guillermo Solana, El archivo Denmark, in : El Cultural, 23-29.01.03, p. 32
Harald Kunde, Einführung zur Ausstellung Denmark Zerreissprobe am 25.04.2004 bei der Vernissage im IKOB in Eupen, 3 p.
E. Brandt, Infos in appetitlichen Häppchen, in: Grenz-Echo, 6.05.2004
D. Coune; V. Wintgens, Denmark crée pour mieux crier, in: La Meuse Verviers, 6.05.2004
20 Jahre Dortmunder Kunstverein, Dortmunder Kunstverein, November 2004,pp. 124-125
Mark Ruyters, Denmark, in: De Tijd, 8.12.2004, p. 15
Denmark heeft iets met boeken, in: Gazet van Antwerpen, 7.12.2004
Frank Heirman, Kunstenaar Denmark stockeert tonnen papier in Justitiepaleis, in: Gazet van Antwerpen, 27.1.2005, p. 67
Geert Van der Speeten, Dode letters in het Antwerpse Gerechtshof, in: De Standaard, 29.1.2005, p. 27
Xavier Vanmechelen, Denmark. Omgaan met mateloosheid, in: Denmark. Archives mortes, Toohcsmi, Uitgevers, Gent, 2005, pp. 9-23
Xavier Vanmechelen, Denmark of omgaan met exces, in: de Conferentie, september-december 2004, pp. 14-15
Xavier Vanmechelen, Denmark. Archives mortes, communiqué de presse, Musée Royal de Mariemont, 29.10.2005 – 15.01.2006
Julie Bawin, Denmark, Du papier usagé comme arme de subversion, in : L'ârt même, n°29, 11/2005
Danièle Gillemon, Papirophobe, Denmark stocke, comprime, rabotte, in : Le Soir, Mad, 7.12.2005, p.59
Michel Voiturier, L'imprimé, support de sensibilité, in : Vers l'Avenir, 3.01.2006, p.22
Michel Voiturier, Les " archives mortes " de Denmark, in : Flux news, janvier 2006
Diagnose (Kunst). Die Medizin im Spiegel der zeitgenössischen Kunst, Wienand Verlag Köln, 2006, p. 130
l'Art du livre 1 : matérialités. Reliures contemporaines, livres objets et installations, Ministère de la Communauté française et Editions Labor, 2006, pp. 34-35, 216-217
Pierre-Jean Foulon, " Ceci n'est pas un livre " ou du bon usage du livre-objet dans le royaume de Belgique, in : Bibliophilies et reliures. Mélanges offerts à Michel Wittock, édités par Annie de Coster et Claude Sorgeloos, Librairie Fl. Tulkens, Bruxelles 2006, pp. 246-255
500 chefs-d'oeuvre de l'art belge du XVième siècle à nos jours, Editions Racine, 2006, p. 158
Het Belgisch kunstboek, 500 kunstwerken van Van Eyck tot Tuymans, Lannoo, 2006
Anna Luyten, Dossiers gestold tot kunst, in : Knack, 9.5.2007, p. 10
Eric Min, Zacht en hard zijn twee kanten van dezelfde medaille, in : De Morgen, 16.5.2007
Henk Van Nieuwenhove, Archieven kindermishandeling als kunst, in : Artsenkrant, 1.6.2007
Marc Ruyters, Denmark archiveert, in : (H)Art, nr. 21, 10.5.2007
Pierre-Jean Foulon, Introduction, in : Cahiers de Mariemont 35. Art & Archives, Musée royal de Mariemont, 2007, pp. 7-8
Pierre-Jean Foulon, Denmark. Archives mortes, in : Cahiers de Mariemont 35. Art & Archives, Musée royal de Mariemont, 2007, pp. 78-79
Xavier Vanmechelen, Assez ! La réponse de Denmark à la frénésie humaine, in : Cahiers de Mariemont 35. Art & Archives, Musée royal de Mariemont, 2007, pp.59-64
Anne-Marie Poels, Denmark, in : 600 jaar Belgische Kunst in 500 kunstwerken, De Standaard kunstbibliotheek, deel 2, Lannoo, 2007, pp. 116-117
Francis Smets, Denmark. Containing, voordracht n.a.v. tentoonstelling Containing, Bibliotheek Arenberg, Heverlee, 9.5.2007
Peter Adriaenssens, Dynamic Archives, toespraak n.a.v. tentoonstelling Infinite Archives (part two), Galerie Geukens & De Vil, Antwerpen, 15.5.2007
Livres # Artistes, Vingt oeuvres des collections de Mariemont, Musée Royal de Mariemont, 2008, pp. 49-50
Lieven Sioen, Denmark. Als persoon en kunst samenvallen, in : De Standaard, Weekend, 3.08.2008, pp. 26-27
Johan Pas, Denmark – persbericht n.a.v. tentoonstelling Une relecture, Bibliotheek Kunstwetenschappen, Universiteit Gent, 3.11 – 19.12.2008
Johan Pas, Denmark-Archief vs Archief, one page n.a.v. tentoonstelling in FelixArchief Antwerpen, 3.04 – 5.06.2009
Johan Pas, ¿ Archieven?, one page n.a.v. tentoonstelling in abdij en Begijnhofkerk Sint-Truiden, 22.08 – 22.10.2009
Francis Smets, Denmark, videotekst n.a.v. tentoonstelling in abdij en Begijnhofkerk Sint-Truiden, 22.08 – 22.10.2009
Sandra Caltagirone, Entre affect et concept, in : L'art même 45, 4ième trimestre, 2009, pp. 38-39
Francis Smets, Dood Archief XII, one page n.a.v. schenking Dood Archief XII aan Centrale Bibliotheek K.U.Leuven, december 2009
Laurens De Keyzer, Waarheden zijn veranderlijk, wijsheden groeien. Een portret van Denmark, in : LOOK/ALIKE. Kunstenaarsprofielen en Artistiek Rollenspel in Hedendaagse Kunst, Academia Press, 2009, pp.283-290
Marc Ruyters, Denmark, in : art, nr. 60, 24.12.2009, p.30
Julie Bawin, L'oeuvre-collection. Propos d'artistes sur la collection, Edition Yellow Now, 2009, pp. 27-28
Francis Smets, Denmark, one page n.a.v. tentoonstelling in de Stedelijke Bibliotheek Genk, 2010
Francis Smets, Fake library, toespraak n.a.v. tentoonstelling Fake library in Bibliotheek Genk, 27.2.2010
Liefde voor het boek, catalogus n.a.v. tentoonstelling in cultuurcentrum Hasselt, Leën Offsetdruk Hasselt, 2010, pp. 90-91
Johan Pas, Denmark, one page n.a.v. tentoonstelling Genadeloze boekenliefde in de Bibliotheek Harelbeke en de Bibliotheek Mu.ZEE van Oostende, 16.10 – 30.11.2010
Jan Van Herreweghe, Genadeloze boekenliefde, catalogus n.a.v. tentoonstelling in de Bibliotheek Harelbeke en de Bibliotheek Mu.ZEE van Oostende, Stadsbestuur Harelbeke, 2010, pp.12-15, 22-31
Wilfried Van Vinckenroye, Hedendaagse kunst in het Vlaams Parlement : een selectie, Vlaams Parlement, 2010, pp. 54-55
Collectie XXVI, De Artefactum-jaren, M HKA, 2010, p.38
25 ans 25 artistes 25 oeuvres, Amis du Musée de Louvain-la-Neuve, 2010, pp.22-23
Paul Kempers, De kunstenaar als politiek activist, in : De Groene Amsterdammer, 6.1.11, pp.46-47
Ronny Van de Velde, 75 Belgische kunstenaars. 75 jaar Delen Private Bank, Smits Wommelgem, 2011 pp.138-139
Jaak Fontier, De dode en dynamische archieven van Denmark, in : Kunsttijdschrift Vlaanderen, jaargang 60, 338, november 2011, pp.294-296
Jan Van Herreweghe, Genadeloze boekenliefde, in : Er zijn nooit te veel boeken, er zijn alleen te veel mensen, deel 4 in cyclus over Het menselijk tekort bij een teveel aan papier, De Gebeten Hond vzw, pp.89-91
De Nieuwe Gouden Eeuw, catalogus n.a.v. tentoonstelling in Sint-Bernardusabdij, Bornem, 1.3 – 13.5.2012, pp.20-23
Peter Iden, Denmark. Die andere Wahrheit des Gedruckten, in: Art und Press, Kunst. Wahrheit. Wirklichkeit, catalogus n.a.v. tentoonstelling in Martin-Gropius-Bau, Berlin, 23.3 – 24.6.2012, Wienand Verlag, Köln, 2012, pp.118-121
Peter Iden, Overkill an Information, in Bild, 30.3.2012, p.10
Johan Pas, The medium is the mass. Van dode letters tot levende archieven, Denmark. tegenArchieven 1972-2012, Guy & Linda Pieters Editions, Pandora Publishers n.v., Wijnegem, 2012, pp.7-28
Francis Smets, Denmark: de stilte archiveren, tekst n.a.v. tentoonstelling tegenArchieven, M – Museum, Leuven, 8.11.2012 – 6.1.2013
Elke Couchez, Dode woorden zwijgen niet, in: (H)art, nr.104, 29.11.2012, p.13
Frank Heirman, Jongbloed!-medewerker Rosan Meijer. 'Dode Letters'(1988) van Denmark, in: Citt A, Stadsmagazine bij Gazet van Antwerpen, 19.9.2015, nr.138, p.20
Rosan Meijer, Dode letters, in: Bezoekersgids, n.a.v. tentoonstelling Uitverkoren, Koningin Fabiolazaal, 19.9.2015 – 3.1.2016, Antwerpen, 2015, p.5
Colette Dubois, Denmark, in: CACLB, périodique du Centre d'art contemporain du Luxembourg belge, no.10, p.3
An Bogaerts en Dieter Van Den Storm, Jan Verbergt en "Dood archief XIII" van Denmark", in: DS De Standaard, 23.3.19, p.30
Geert Van Der Speeten, De mobiele archieven van Denmark. Eresaluut aan papiertijdperk, in: De Standaard, 6.2.2019, D7
Koen Van der Schaeghe, Uitgekleed papier, in: BO Magazine, no.99, oktober 2020, pp. 44-46
Marc Van de Weyer, Tegenarchief, in: Belang van Limburg, 20.2.2021, p. 11.
Jean-Marie Wijnants, L'art d'accommoder les archives, in: Le Soir, MAD, 25.8.21, pp. 26-27
Sigrid Ernst-Fuchs, Denmark, in: Aus Papier. Ein Album zur Sammlung Kunst aus Papier, Kunstmuseum Villa Zanders, 2021, pp. 105, 184, 186